COLLETTE DIVITTO is a disability advocate who has down's syndrome and is an owner of her own Boston MA cookie company. I love cookies – my downfall, just as my body, is sweets. Good & Plenty is my fav licorice treat – 155 pieces of godlike candy in a 6 oz box. It's fat free but NOT CALORIE FREE – but that's another story.
I read about Collette and her business when researching companies whose owner's are considered disabled. So just take a look at her site – she's anything BUT DISABILED & I want some of her cookies. I love cookies.
SPECIAL COOKIES FROM A SPECIAL GIRL
---
Collette, a young woman born in 1990 with Down Syndrome, has been creating her own recipe for cookies for fun! But after rejection repeatedly when applying for a paying job and being told she had great skills, was always told the same thing…she was not "a good fit".
Collette was determined to open her own business and try to earn a living on her own. Collette, a very tenacious young woman, despite any disability, was off to show people how able she is and how other's like herself can be of great value to their community. Collette has created a global movement (check out her In The News Page) and is known by many throughout the world.
Her response to all this new unintentional fame is, "why are people so surprised". Collette travels around the country to share her inspiring story, and constantly encourage people to focus on their abilities rather than what they can't do.
She speaks to audiences of hundreds to thousands and has decided she needs to use her platform to create change and to help the non-disabled population see abilities and start including and employing people with disabilities more and more. It pains Collette to know 82% of people with a disability, that are capable of work, cannot find paying jobs…which means they cannot live independently.
With every cookie sale Collettey's has, Collette is one step closer to offering yet another employment opportunity in her company. And with every cookie sale Collettey's has, Collette is also one step closer to her "Call to Action" plan that she insists on leading.
This plan is to represent her community in Washington, D.C. with a written employment incentive policy for adoption, and to request the elimination of the sub minimum wage. She has been referred to as "One smart cookie" and "One tough cookie".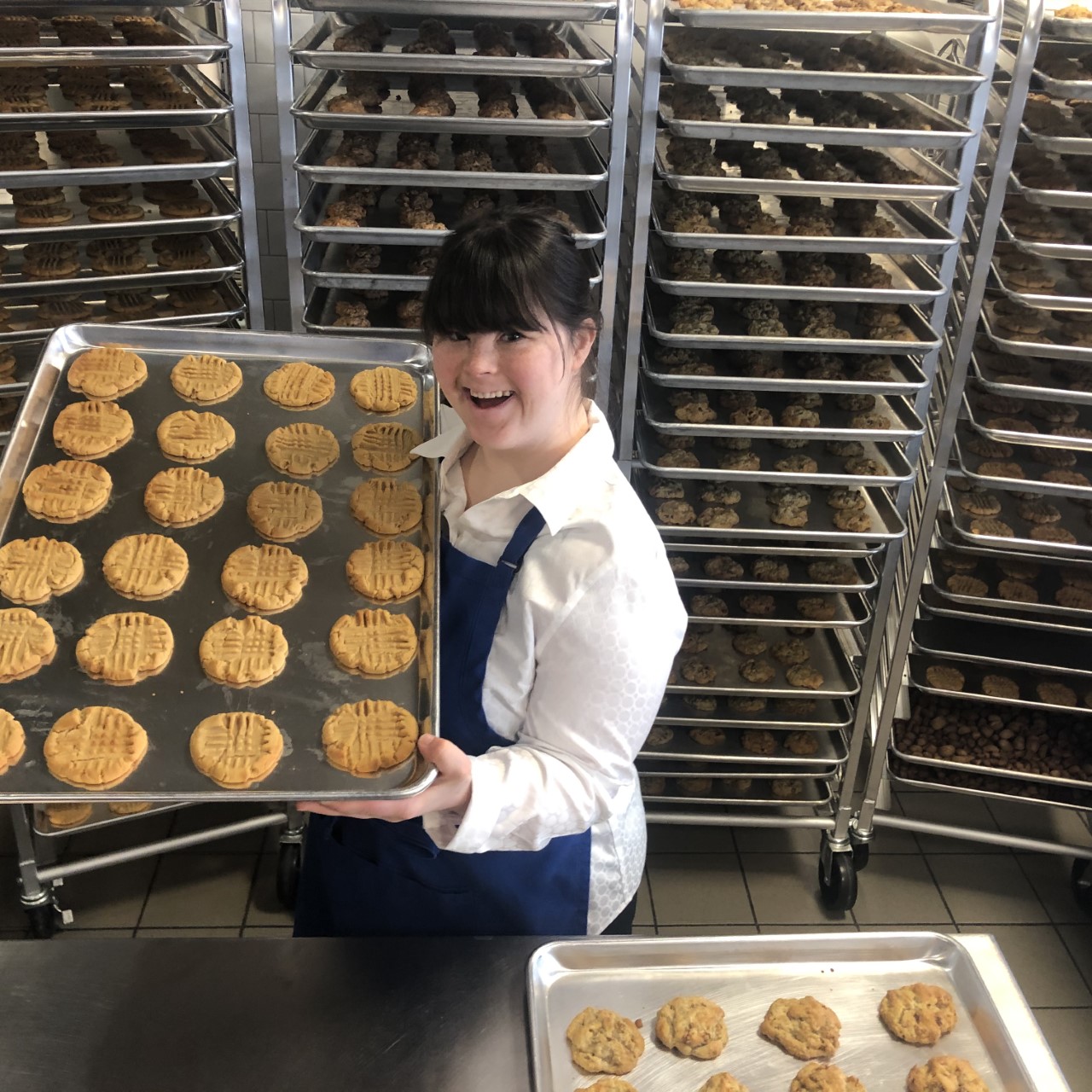 Collette is working with interested partners for production locations across the country, all of which are culinary training organizations for people with disabilities whose graduates cannot find jobs. It's a win win….so please order cookies for all your gifts so Collette can continue to expand!
With her trademark sass and drive to work hard and succeed, keep an eye on this girl!
The Mission
With all the great strides that society has made recently in acceptance and equality, the disability community is often overlooked. Many people are surprised to hear about the rejection that Collettey's Cookies CEO Collette Divitto faced in trying to find a paying job, but sadly her story is actually typical among people with disabilities – 82% of people with a disability are unemployed. Many of them want to work, have valuable skills to contribute, and ache for the chance to prove themselves and earn a living.
Even among that much smaller percentage of people with disabilities who are employed, most of them live in poverty due to the 14c Exemption to the Fair Labor Standards Act. This is a little-known federal law that excludes Americans with disabilities from receiving the federal minimum wage and allows employers to pay them whatever they think they're worth. When this law was first passed in 1938, it required employees with a disability to earn at least 75% of the minimum wage. But things have changed over time. In 1966, that rate dropped to 50% and in 1986, that percentage was removed altogether. There have been reported cases of people with disabilities making as little as $1 an hour. This is simply unacceptable.
The mission of Collettey's Cookies is to create jobs for people with disabilities, change the public perception of just how capable this population truly is, and work with Congress in Washington, D.C. to adopt policies that would abolish the 14c Exemption to the Fair Labor Standards Act, and provide tax incentives to employers that hire workers with a disability.
Collette has hired several people with disabilities, and will continue to hire more as Collettey's Cookies continues to grow. The company is working to develop co-manufacturing partnerships with organizations both across the United States and internationally to open locations in their facilities and employ people with disabilities in those cities. Collette has also started a non-profit, which provides advocacy, employment training, and her personally-developed entrepreneurial program. A percentage of each cookie sold by Collettey's Cookies is donated directly to the non-profit.
In support of this mission, Collette is looking to team up with documentary film producer.
Collette hopes an unscripted doc of her life day to day and all the past achievements to help inspire and bring hope to others in the disability community.
Every cookie you order helps bring Collette one step closer to hiring another person with disabilities, providing training to an underserved population, getting to Washington, and changing the world. Sign my petition to create jobs: http://chng.it/pmfCT4j
I'M SHOWING SUPPORT & BUYING SOME COOKIES!!!!
While I cannot buy any cookies now because I have to lose 30 pounds before June 15 – I do intend to buy some from her AND I also follow her on #instagram. You should, too!