started off interesting and a bit bewitching and beguiling however in this week's episode, the character of #CiprienGrieve played by actor #TongayiChirisa totally confused me from the second he appeared on my screen because he is NOT in Anne Rice's novel. What he is – is a mix of 2 characters. To be exact 2 male characters combined into one actor who is a black man. They casted a black actor to romance the lead female and he's not even good looking. They did it because they are always doing this – shoving black male characters down our collective throats and if you disagree like I ALWAYS DO then they call you names like RACIST.
Well, I'll cop to being a racist any day of the week and I dare anyone including Kimmie's so called liberal husband who says he isn't has also said and thought racist things. My objection to this TREND will be considered racist by the people on social media who read this post however while I admit to being racist at times as we all are, the use of a black actor in this story is insulting to black people for the one and only simple reason this character exists in a series where he never did before – so the lead female and he can go #MANDINGO. The only reason these "screenwriters" who wrote the script merged two of the most important male characters in this novel, one of them a main character, #MICHAELCURRY, is solely to have the black man fuck the white female lead. That is the only way I can phrase this and it is the #truth. This is the trend Hollywood, print media, advertising and other mediums are bending towards while cops continue to murder black people in the streets of our country – forcing the American public to watch black male actors romance beautiful white actresses for the sake of shock value is boring and does a disservice to the black actor who's talents could best be served elsewhere in another show where he has an important reason for being in that script and not as token penis to piss off everyone watching the show.
Tongayi Chirisa plays Ciprien Grieve, a new character created for the show. Ciprien is a fusion of the two characters from the novel series: Michael Curry and Aaron Lightner. Rowan revived Michael after he nearly died from drowning. He shares something with the Mayfairs, the knowledge of Lasher, who he saw once as a kid and never forgot about it. Aaron Lightner is a member of a secret society and is drawn to the Mayfair witches. The trailer shows Ciprien guiding Rowan through her discovery of this magical other world, and there may be romance involved if the TV series follows the books.
No offence to the black actor, #TongayiChirisa who's not a bad actor but completely unnecessary in the script because he is not a real character nor does he represent a real character from the novel. #MICHAELCURRY is a key character in the novel and the other key character #AARONLIGHTNERI and frankly I could not warm up to character #CiprienGrieve because he does not exist in the books and I have no idea what he was doing there. I will not speak for the late author #ANNERICE but I have the feeling she would have been less than thrilled with this additional character.
In fact I couldn't watch the series further than last week. I started to watch this week's episode but suddenly they were in bed, fucking and there is no real reason why that should be happening.
The writers who wrote the series THE VAMPIRE LASTAT for series TV also screwed up when they wrote vampire LOUIS who was the beautiful BRAD PITT in the film – as a black man who was a pimp who owned a whore house. We stopped watching that series too.
If Anne Rice was alive today I would tell her – I have a camera, my writing partner has a camera and we know another videographer and plenty of filmmakers – let's shoot your books on our own and you can write the script.
The only way to get things the way you know it shouLd be done because you wrote the damn thing is TO SHOOT IT YOURSELF.
Here is an article saying pretty much what I just wrote. Happy reading and frankly if you disagree with me & want to write a comment do so without being angry. I did not write this post in anger but I am sick of seeing MANDINGO in every single TV show and movie and print media out there. Hollywood has to stop pushing this agenda especially with classic stories from novel writers like #ANNERICE who trusted them with their material.
FROM SALON:
Anne Rice's journal archives point to issues she would have had with AMC's "Mayfair Witches"
After combing through Rice's journal archives, I think this adaptation would have her turning in her tomb
Nights & Weekends Editor
PUBLISHED JANUARY 8, 2023 10:15PM (EST)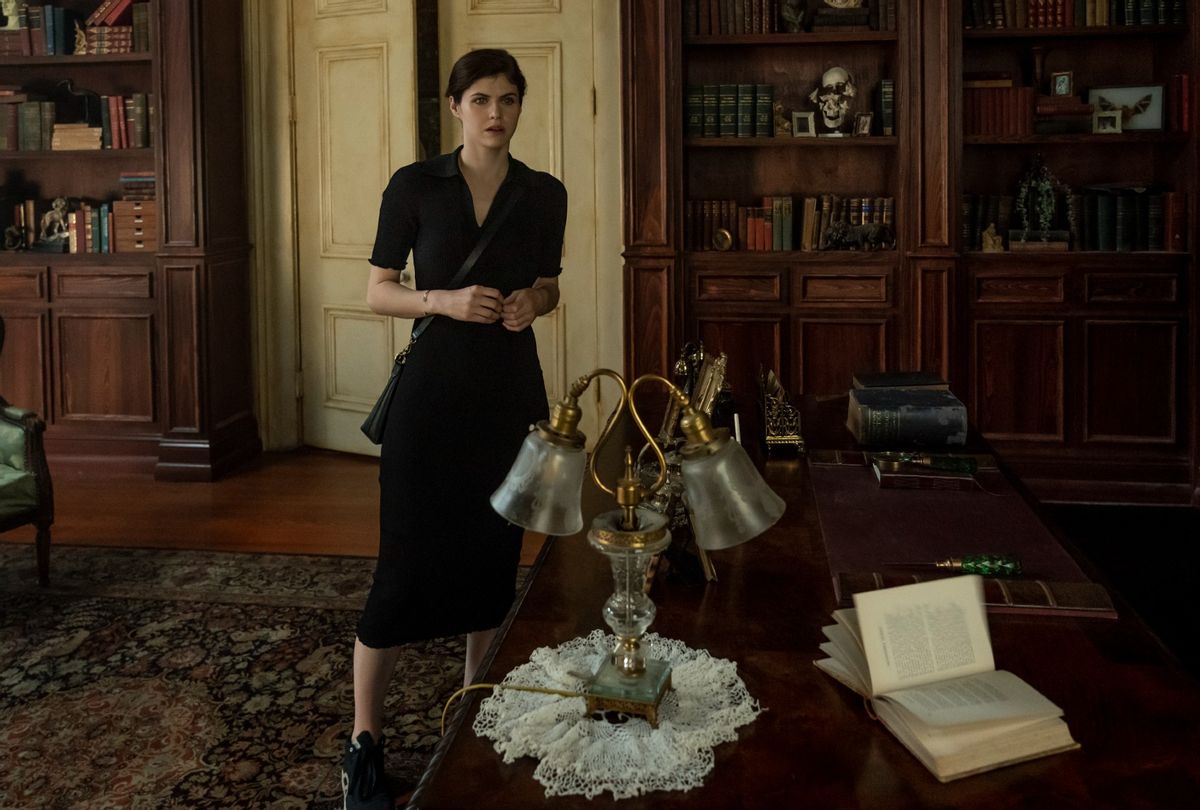 Alexandra Daddario as Dr. Rowan Fielding in "Anne Rice's Mayfair Witches" (Alfonso Bresciani/AMC)
Once Anne Rice began to gain notoriety as an author after the 1976 release of her debut novel, "Interview with the Vampire," it wasn't long before big name production companies began circling, clamoring for the rights to her work so that it could be adapted for TV and film.
Throughout her career, Rice kept extensive journals chronicling her private life, her pre-manuscript musings on each of her novels, and her business dealings — jotting down frustrations over editor notes, royalties and takeaways from conversations regarding yet another failed studio script based on her work — amidst side commentary on the episodes of "Kojak" and "Miami Vice" that she enjoyed watching on such and such night. 
After Rice's death in 2021, these journals, along with her novel drafts and a treasure trove of fan correspondence, were put into the care of Tulane University, which painstakingly archived it all into a collection that may be viewed by the public for the first time ever, by appointment.
Earlier this week I spent four hours at the archive, and only made it through one box of journals. My intent was to conduct research on her writing of the "Lives of the Mayfair Witches," series, which I managed to do. But I couldn't help but get pulled away from the task at hand while hanging on every word, however seemingly trivial (apparently she really liked train sets) that this author whom I've loved since a young teenager wrote in her own scrawling handwriting. 
In one journal entry from July 29, 1985, written on a morning that Rice notes as being foggy, she outlines a "fact sheet" from NBC that includes a rundown of the key characteristics for the main characters from "Interview with the Vampire," Louis, Lestat and Claudia. Up in the lefthand margin she writes "IWTV – fact sheet for their crummy script."
And in 2002, a message from Rice transcribed from a fan phone line she used to maintain details yet another adaptation that never worked out, also for NBC, which was to be a "The Witching Hour" miniseries with a script written by John Wilder.
"After three scripts and many meetings, this production was scrapped as well," Rice writes in an update posted to her website. "We were all very disappointed." 
As you can see, the writer had a vision for adaptations of her work, and studios never seemed to meet her standards.
 The writer had a vision for adaptations of her work and studios never seemed to meet her standards.
"Even when an author works closely with the director, the writer or the actors, the author's voice is only one of many," Rice writes. "Those controlling the financing for a project can shut the production down. Sometimes those who decide the fate of a production have never read the author's books, and have little or no idea as to what the books are about."
#catpatten