THIS above is not the beginning of a joke. It is however a true story about love and religion. Here's what I know about the catholic church and why nuns and priests may not marry.
In the beginning of the ROMAN CATHOLIC CHURCH there were POPES who married and had children. This cost the church so much money so the church eliminated the option for POPES to MARRY and then gave them the alternative to become MINISTERS or REVERENT'S who could marry and have children.
In the Orthodox Armenian Church after a man goes to Seminary he has the option to become a MARRIED PRIEST called a DERHYD or to become a priest who can one day be POPE of the Armenians called HYESOORP. These seminarians make these decisions right before graduating the Seminary. One of my friends who is unfortunately deceased was a Married Priest whose wife was referred to as YERESKIN – Mrs Priest. He married a woman from Detroit and they had two children, a girl & a boy. I had known RANDY from American Youth Groups and he had moved from Massachusetts to serve as a priest in Michigan, his wife's hometown. He often told me that his father died when he entered his 40s from a brain aneurysm and his fear was that was also going to be his fate. When I was 3 years into my 40s, I learned that Randy had passed away from exactly what he had feared would happen. Then 5 years later his wife died from breast cancer and his kids were take to her family who raised them. I don't know them but his daughter SONA has a blog and is a LIFE COACH and a MOTIVATIONAL SPEAKER and I really like her and read her blog whenever she writes. One day I hope to meet her. Doing what she does for a living is interesting and reminds me of what Randy did as a priest.
I believe nuns and priests and monks should be able to marry. The Roman Catholic church asks a lot of these people to work without any sexuality to their lives and it's no wonder so many of the men are queer or pedophiles or rapists. What is a wonder to me at least is that billions of people follow the Catholic Church still – to this day. I am not religious even though I was raised in an Orthodox manner – Saturdays was filled with Armenian Language school and Sunday was Sunday school at the church and then a 3 hour service in Ancient Armenian. Started at 6am in the morning and I finally rebelled at 15 and stopped going altogether except for holiday masses.
One Easter, with all the old lady widows dressed in black sitting at the top of the pews my friends and I sat in the back smoking cigarettes. One of them snuck up to the Thurible, also called censer, vessel used in the Christian liturgy for the burning of aromatic incense strewn on lighted coals, and dropped cannabis into the mix. When the guy took the THURIBLE around the entire church during the service everyone got high including the 8 widows at the top of the pew, one of whom was screaming that her husband had returned from the dead. We were dying laughing until the furious Priest figured out what was going on when he grabbed the Thurible and sniffed it and gagged. He went straight to the back of the church and grabbed two guys – 1 by the ear and the other by his big nose. That was the end of that.
We girls feigned innocence and the Priest was furious but I digress….
Here is a story about an old monk in his 50s and a younger nun who met once, fell in love at first sight and then found a way to enjoy their religious calling while also being in love and married to their soulmate. Every story should end this way. Unfortunately some nuns of old were torturers who loved to bully and torment young children because they were forced to abstain from sex. One of the nuns of my father in law's time at catholic church hung him outside a window when he was a kid and he was an Irish big kid – so she musta been a monster.
My partner's cousin is a nun and has talked about her love for a certain priest whom she worked with and she was never sure if he felt the same way but she said she loved him until he died. She is now retired and in her 80s living outside the church with another retired nun. She did not have a wasted life instead she helped so many people and speaks a bunch of languages and has a car.
My father's nephew was a married man who divorced and then became a priest who ran his ministry on cruise ships which went all over the world. Some life and although I never met him I heard plenty of stories about him while he was serving the church. I am sure he's either retired or passed by now.
The thing about the Church today is that the priest scandals were made all the more horrible by the fact that the POPES decided to continually move the predators around from church to church and these predators were never stopped thus continually perpetuating their crimes with other children. Until the current POPE who was furious about the entire scandal did something about it and is determined to bring the church into the 21st century without scandal. I half admire him and not because I do not like the ROMAN CATHOLIC CHURCH and do not believe in what they teach.

Dan Brown, author of THE Da VINCI CODE & books – investigated the church and a lot of what he wrote in those books is truth. The church of today is an extension of the ROMAN EMPIRE which was the plan of Emperor Constantine who devised a plan that would extend into the future and keeps the church as one of the richest entities in the world in Rome – $33B
Catholic Church Vatican -$33 billion
My school – Mother Cabrini High School was closed in 2014 because they were not profitable and late teachers were largely running the school. So they closed after 115 years which is the norm for the Roman Catholic Church who takes parishioners money every Sunday but when these churches call them saying they need money to keep their door open the Roman Catholic Church turns the other cheek and I'm not speaking about their faces.
The Roman CC does not support their churches and allows them to close especially in neighborhoods that are considered ghettos and it becomes the task of other religions to open makeshift churches to help the hood retain it's religious upbringing. A sad predicament for an organization who possesses $33 Billion dollars and doesn't care about it's followers. This is not what Jesus taught and it is not what Peter understood about what Jesus taught & of all the 12 disciples, Peter was the one who is called the ROCK. The Roman Catholic Church is the ROCK the church was founded upon. The church was founded on lies and not love and that is where I stand on them. They are an evil entity.
Back to the nun and the monk – here is their story and I found it beautiful and wonder why more people don't exercise their rights and leave the evilest of churches.
The nun and the monk who fell in love and married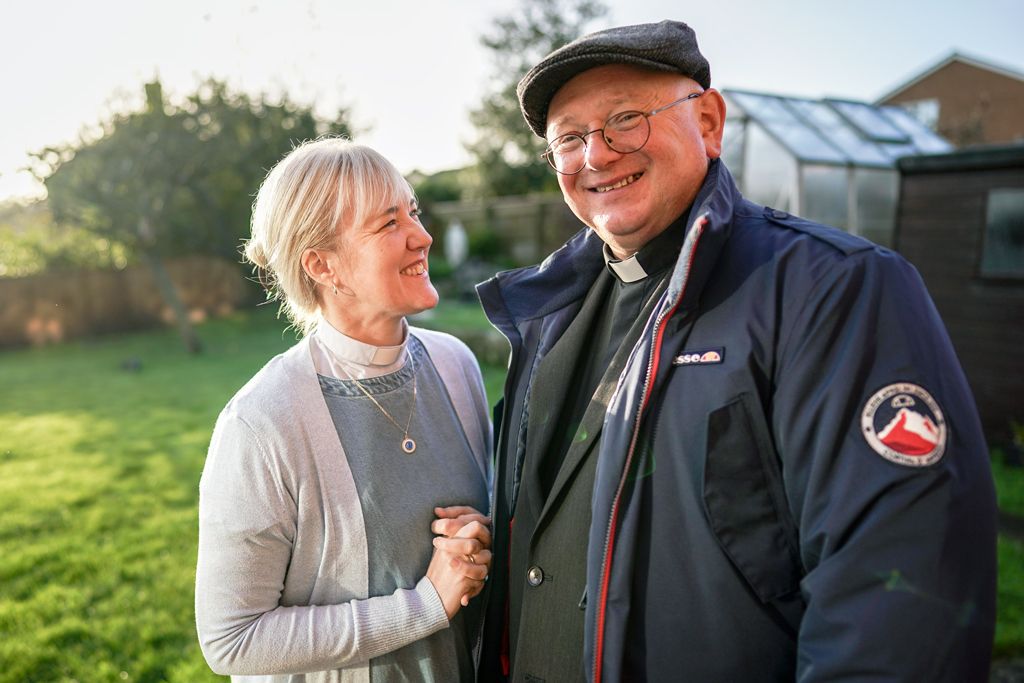 By Aleem Maqbool
Religion editor, BBC News
Twenty-four years after becoming a nun, it was a brief touch of the sleeve of a monk in the parlour of the convent in Preston, Lancashire, that changed everything for Sister Mary Elizabeth.
The prioress of the order had taken her to meet the friar Robert, who was visiting from a priory in Oxford, to see if he wanted anything to eat. But Sister Mary Elizabeth's superior was called away to take a phone call, so the two were left alone.
"It was our first time in a room together. We sat at a table as he ate, and the prioress didn't come back so I had to let him out."
Sister Mary Elizabeth had lived a devout, austere and mostly silent life as a nun, spending most of her days in her "cell". As she let Robert out of the door, she brushed his sleeve and says she felt something of a jolt.
"I just felt a chemistry there, something, and I was a bit embarrassed. And I thought, gosh, did he feel that too. And as I let him out the door it was quite awkward."
She recalls that it was about a week later that she received Robert's message asking if she would leave to marry him.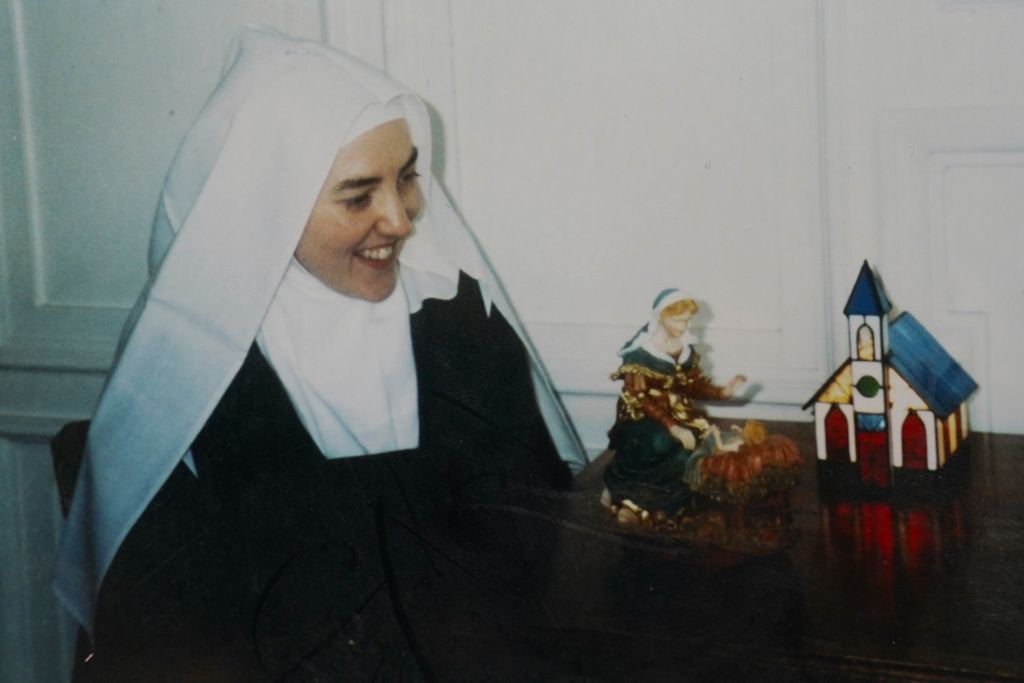 "I was a little bit shocked. I wore a veil so he never even saw my hair colour. He knew nothing about me really, nothing about my upbringing. He didn't even know my worldly name," she recalls.
Before entering the Carmelite order – an ancient order of the Roman Catholic church – at the age of 19, Sister Mary Elizabeth had been Lisa Tinkler, from Middlesbrough.
Though her parents had not been religious, an aunt's pilgrimage to Lourdes awakened something in six-year-old Lisa, such that she asked her father to build an altar in her bedroom.
"I had a little statue of Our Lady on it and a little Lourdes water bottle. Actually, I thought it was the bottle that was holy and not the water – so I was just filling it from the tap and drinking the water," she says.
Lisa would make her own way to one of the Roman Catholic churches in her home town and sit alone in the second pew – where she says she developed an overwhelming love for the Virgin Mary, mother of Jesus, and ultimately a feeling she had a vocation.
A weekend retreat at a monastery while she was still a teenager convinced her of her calling. The monastery was run by Carmelite nuns from an order that had origins in the 12th Century and where the life was particularly spartan, secluded and strict – but she decided that was precisely the life she wanted to lead.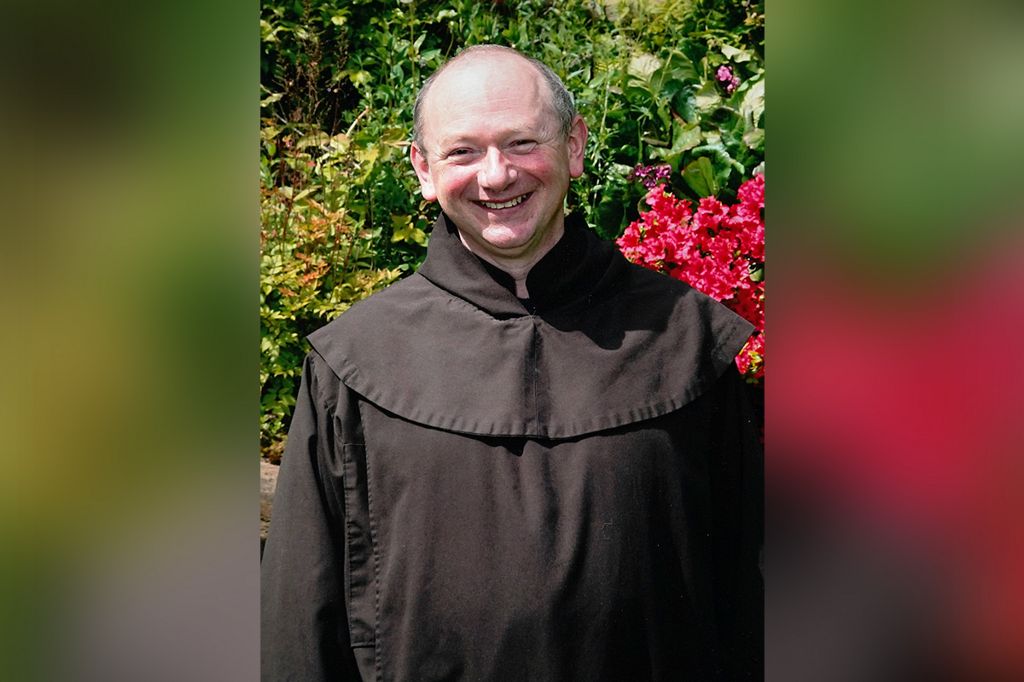 Though Lisa had wanted to join immediately, her mother – who was troubled by her daughter's decision – secretly wrote to the monastery to delay her departure for a few months, so Lisa could spend one more Christmas at home. She joined in the new year.
"From then I lived like a hermit. We had two recreation times a day, about half an hour, when we could speak, otherwise you were on your own in your cell. You never worked with anybody, always on your own," she says.
Over the years, Sister Mary Elizabeth felt her vocabulary diminish as she had little more to talk about with the other nuns – who were all decades older than her – except the weather and the nature in the garden. She saw her mother four times a year through a grille.
"When I had my 21st birthday, my cake and my cards were all passed through the drawer. And when my nephew was born he was passed through a kind of turntable," she chuckles, looking back on it all quite fondly.
She describes the way she felt her "interior world" open up as the outside world closed to her. There was a sense of feeling content and fulfilled. But, that day in the convent parlour, it all changed with the touch of a sleeve and a message asking if she would walk away from monastic life and get married.
Sister Mary Elizabeth didn't give Robert an answer to his question and did not know what to do.
He may have known nothing about her, but she knew a little about him.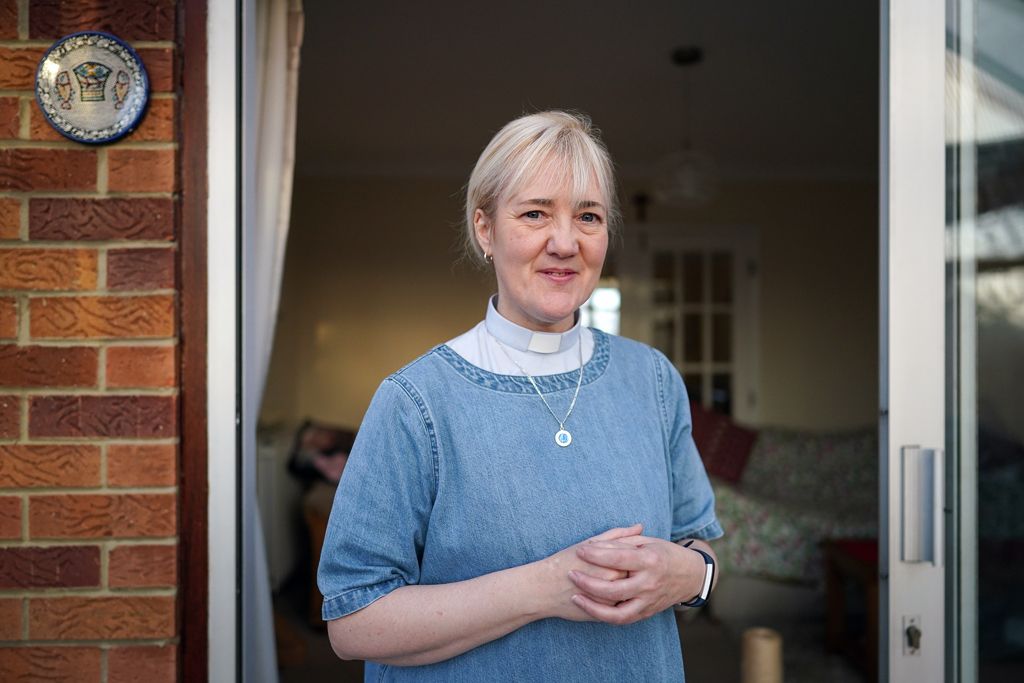 On his visits from Oxford to the Carmelite retreat centre in Preston he had occasionally come to say mass at the nearby monastery and Lisa had watched his sermons from behind a grille.
Through hearing his anecdotes as he preached, she got snippets of a life growing up in Silesia in Poland near the German border, and about a love of mountains. Though she says at the time it did not feel like it had a profound impact on her.
Now, suddenly, that had changed.
"I didn't know what it feels like to be in love and I thought the sisters could see it in my face. So I became quite nervous. I could feel the change in me and that scared me," she says.
Sister Mary Elizabeth eventually plucked up the courage to say to her prioress that she thought she had feelings for Robert, but the response she got was disbelief.
"She couldn't understand how it had happened because we were in there 24/7 under her watch all the time. The prioress asked how I could have fallen in love with so little contact," she says.
Sister Mary Elizabeth had imagined the reaction of her family, or of her bishop, if she left. She also wrestled over whether her relationship with God would change.
But the interaction with her superior caused her to do something uncharacteristically impetuous.

Lisa and Robert's story is explored further in the first episode of a new series of Beyond Belief at 16:30 GMT on BBC Radio 4 on Monday 2 January – afterwards it will be available on BBC Sounds

"The prioress was little bit snappy with me, so I put my pants and a toothbrush in a bag and I walked out, and I never went back as Sister Mary Elizabeth," Lisa tells me now.
Robert had messaged her to say he was planning to visit Preston again that evening. This time, it was to meet a Carmelite friend for advice at a nearby pub, the first person from the order he had trusted to tell of his and Lisa's predicament.
Lisa guessed they would be meeting at the Black Bull about a mile up the road, so that was where she decided to head.
But instead of it being a joyful moment, Lisa was thrown into deep turmoil that November night in 2015.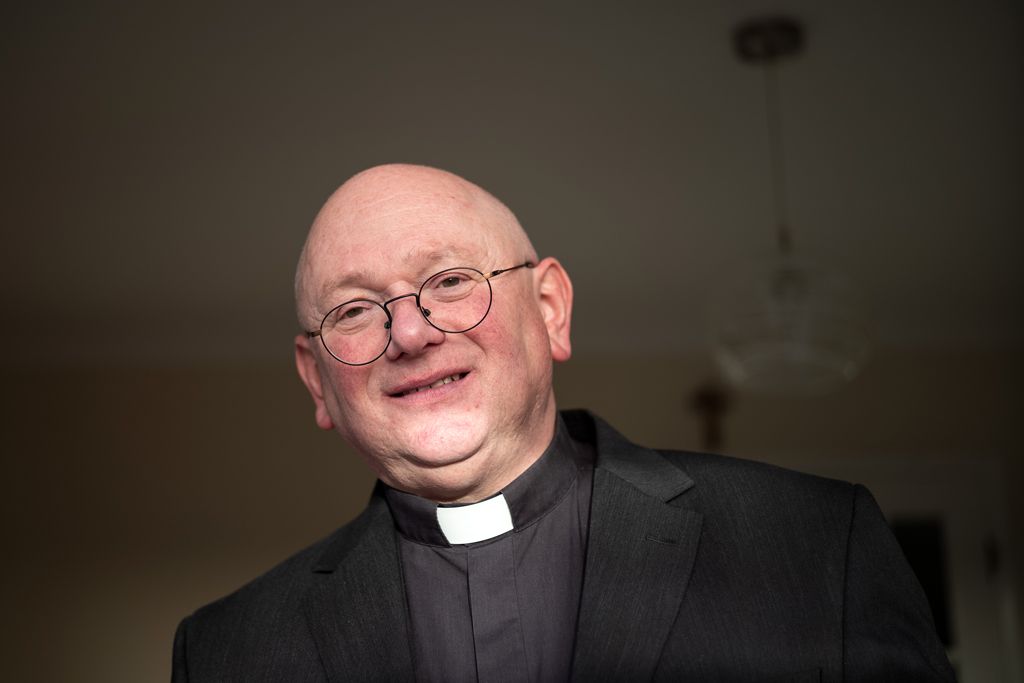 "The rain was lashing down as I was walking along the Garstang road. The traffic was coming towards me with bright headlights and I just thought 'I could just finish this,'" she says, referring to a momentary suicidal thought.
"I was really struggling, I thought I should just stop this from happening and Robert could get on with his life. But I also wondered if he really meant what he said about getting married."
But Lisa kept walking until she found herself on a Friday night drenched, without a coat, in her habit outside the Black Bull. She only plucked up the courage to go inside when she saw the monk inside through an open door.
"When I saw her, my heart stopped," says Robert.
"But actually I was paralysed by fear not by joy, because I knew in that moment that I had to be entirely for Lisa, but I also knew we were not practically ready for that," he says.
Robert had been a Carmelite friar for 13 years by this point. He was a thinker, academic and theologian who came to monastic life in a search for meaning during what he describes as a crisis of faith and identity.
Looking back now, he feels his roots made that confusion almost inevitable – growing up in a region that recently transitioned from Germany to Poland, with a Lutheran father and Catholic mother.
But it was a dark period after a failed relationship that led him to continue his search for fulfilment in England where, in spite of the Lutheran Protestant theology he had settled on, it was in a Carmelite Roman Catholic monastery where he found his solace.
"I didn't know much about Carmelites before and had not considered being a monk. In fact, I was always very suspicious of this kind of expression of faith," Robert says.
But he says the order taught him how to embrace darkness, difficulties and crisis to the point where he felt settled. However, the encounter with Lisa – who he barely knew then as Sister Mary Elizabeth – turned his life upside down.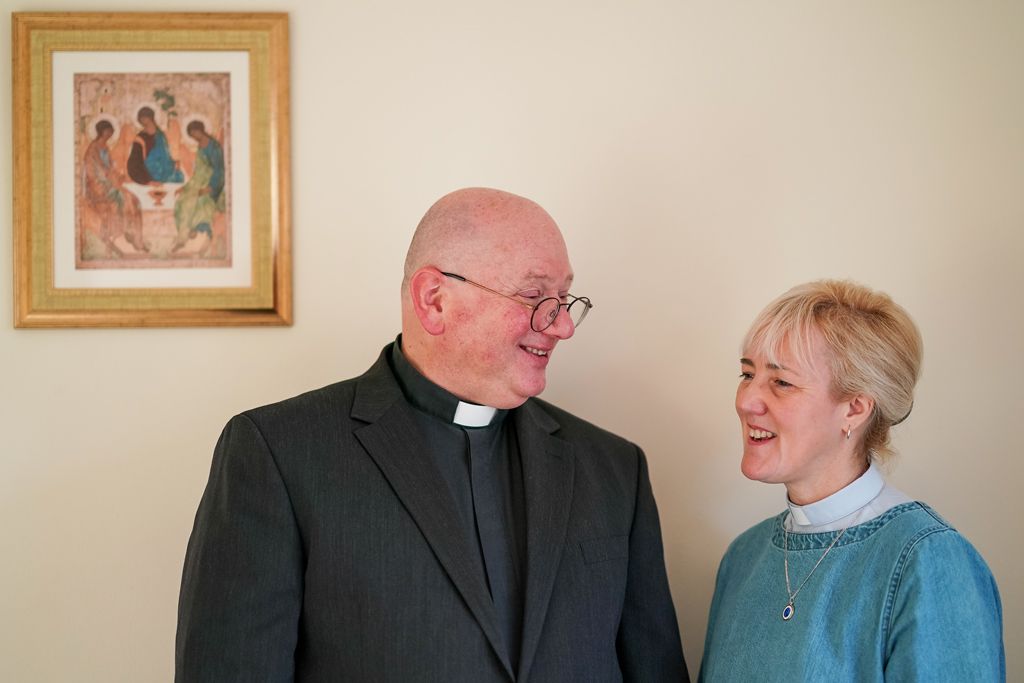 "That touch of Lisa's on my sleeve started a change, but while I felt something gradually growing in my heart, I don't think I ever reached a point where I felt I was crazily falling in love, because in becoming a monk or a nun they teach you how to deal with emotions like love," says Robert.
He explains that his message to Lisa asking if they could marry was almost an intellectual tussle with himself.
"When she appeared at the pub the little demon in me was terrified. But my fear was not religious or spiritual, it was purely about how I would start a new life at the age of 53," he says.
The transition was difficult, particularly at the beginning. Lisa remembers a moment just before Christmas, soon after they had both left their monastic lives.
"I looked at Robert and he was distressed and crying. At that moment we both hit rock bottom and it felt like we should just take something like Romeo and Juliet and just end it," says Lisa.
"It was so hard because he both felt so alone and so isolated and didn't know the way forward. But we just held hands and we got through it," she says.
They describe the moment at the job centre when they both burst into tears when asked about their transferrable skills – and another time when they were driving from Preston to Yorkshire.
"I had ordered a book in Polish about nuns who had left their orders for various reasons. I read and translated it for Lisa in the car, but she had to pull over on the M62. We both needed to cry because their stories were so emotional and we could relate to them," says Robert.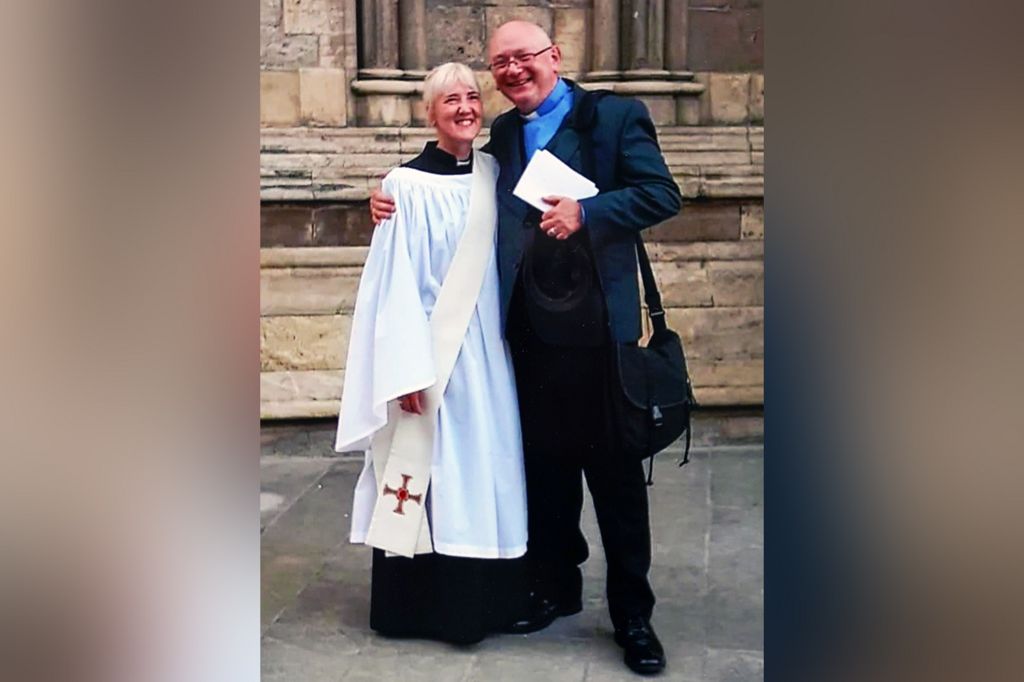 What brought them peace was the thing that guided them to their monasticism in the first place – connecting with their personal faith.
"All through your religious life, you're told your heart is supposed to be undivided and given to God. Suddenly I felt like my heart was expanding to hold Robert, but I realised it also held everything else that I had. And I didn't feel any different about God, and that was reassuring to me," says Lisa.
Lisa first found work at a funeral home and later as a hospital chaplain. Though he was upset by a letter from Rome telling him he was no longer a member of the Carmelite order, Robert was soon accepted into the Church of England.
They both did get married, and now share a home in the village of Hutton Rudby in North Yorkshire – where Robert has been made a vicar of the local church. They are still on a journey to adjust to life outside the monastery.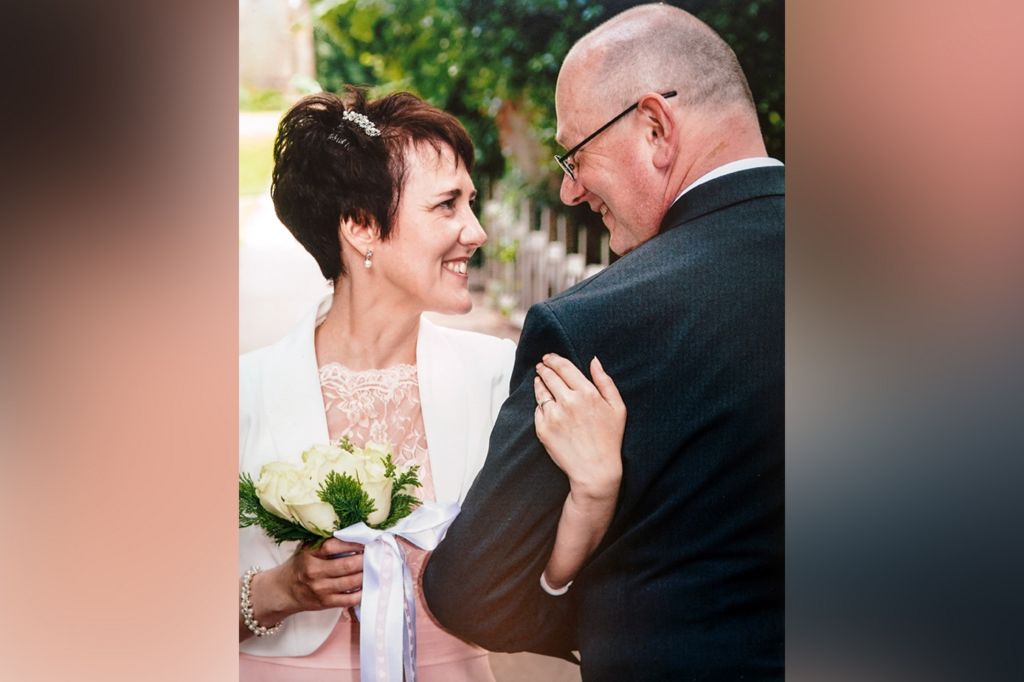 Lisa in particular, who had been isolated for 24 years and not had the academic life Robert had before, talks of feeling like an observer in the outside world. Only now is she working out what hair styles and clothes work best for her after a life in a habit.
They both still yearn for elements of monastic life, Lisa even says that if it was not for Robert, she would return to being a Carmelite nun tomorrow.
"We became so used to the silence and the solitude, that's hard to find in the business of the world, you get pulled in so many different directions, so it's a constant struggle for me and Robert to remain centred and grounded," says Lisa.
But they have found a solution that works.
"I often think I live in a monastery here with Robert, like two Carmelites where everything we do is given to God. We anchor ourselves in prayer but love can make a sacrament of everything you do and I realise nothing has really changed for me," she says.
Lisa says they both agree there are three of them in the marriage.
"Christ is at the centre and comes before everything. If we were to take him out of the equation, I think it wouldn't have lasted really."
Lisa and Robert's story is explored further in the first episode of a new series of Beyond Belief at 16:30 on BBC Radio 4 on Monday 2 January – afterwards it will be available on BBC Sounds.
Photography by Ian Forsyth
CogFunPro